You can't approach long-­range precision the way you would a day plinking at the range. Here are the top brands for both match and hunting lines. It's hard to say which load your rifle will like best, so it's wise to try them all.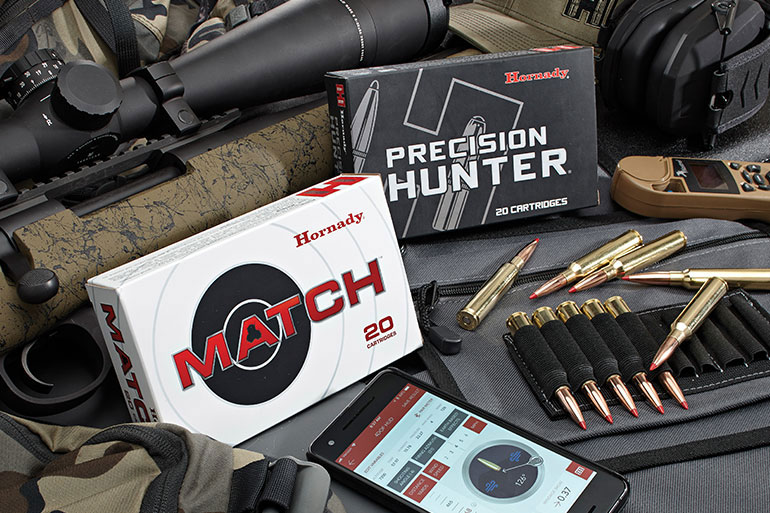 Hornady
Creators of the Creedmoor, Hornady has once again created an amazing long-­range cartridge: the .300 Precision Rifle Cartridge (PRC). Selected by the U.S. Department of Defense for their long-­range sniper program, the .300 PRC travels far and hits hard. Loads are offered in 212-­grain ELD-­X Precision Hunter or 225-­grain ELD Match.
The ELD-­X Precision Hunter is a match-­accurate hunting bullet, while the ELD Match features a new Heat Shield tip and new AMP bullet jacket. Hornady goes a step further with their match ammo by carefully selecting cases based on wall thickness uniformity, internal capacity, case weight and wall concentricity. The production standard is high, as is lot-­to-­lot consistency for both offerings.
---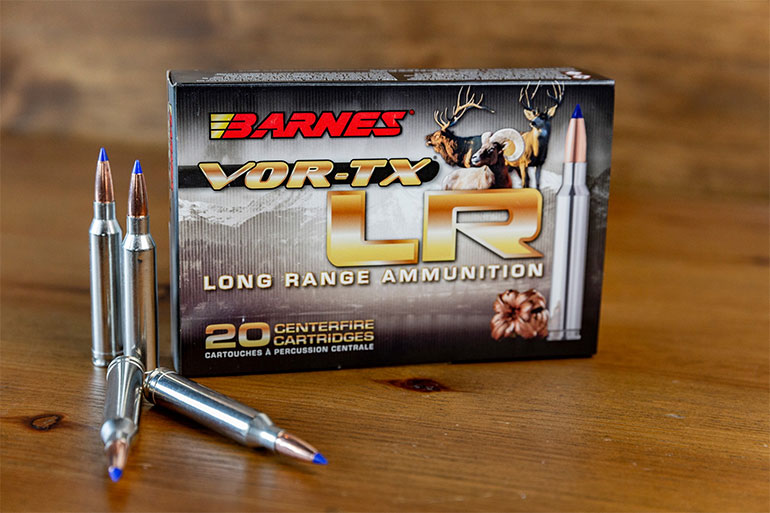 Barnes Bullets
Barnes Bullets' VOR-­TX LR premium hunting line features 10 different cartridges from 6mm Creedmoor to .375 Rem. Ultra Mag. Engineered for one-­shot kills at 700 yards and beyond, the nose cavity peels back into four cutting petals for maximum expansion and lethality.
Barnes also provides nine premium options for long-­range competitions. Their Precision Match line of ammo is loaded with Open Tip Match (OTM) BT bullets with high ballistic coefficients (BCs) and high consistency in loads. Barnes also uses Doppler radar technology to generate accurate data.
---
SIG Sauer
SIG Sauer Elite Performance Match 6.5 Creedmoor is loaded with a Sierra MatchKing 140-­grain OTM bullet, and the SIG HT 6.5 Creedmoor features an all-copper bullet. Both are fantastic bullets.
All SIG rifle ammunition is loaded with state-­of-­the-­art equipment that is 100-­percent electromechanically monitored to maintain conformity and consistency. With standards like that, SIG is sure to bring home trophies — both hunting and competition.
---
---
Federal Premium
Federal Premium's newest offering is the Berger Hybrid Hunter line that offers improved BCs due to the hybrid nose design. These projectiles are loaded into Federal's finest nickel-­plated brass and primed with Gold Medal primers. Available in common cartridges from .243 Win. to .300 Win. Mag., Berger Hybrid Hunter is also available in specialty rounds like .280 Ackley Improved and .270 WSM. For hunting at extended distances, these loads have a lot to offer.
---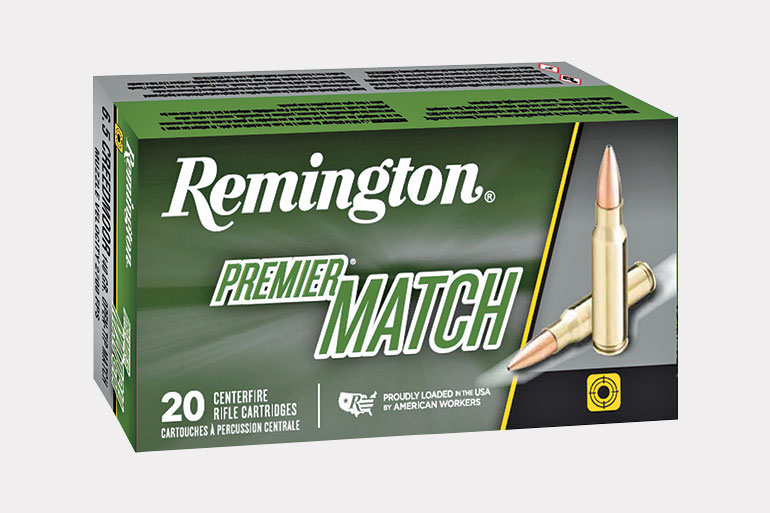 Remington
As one of the oldest firearms manufacturers in the country, Remington knows their way around a bullet. Their Premier Match line of ammunition offers cartridges from .223 Rem. through .308 Win. Using only match-­grade bullets, Remington's Premier Match selections are tack-­drivers at long-­range. They employ special loading practices to ensure world­class performance and accuracy, so whether it's for practice or a match, Remington Premier Match will hit the target.
---
Nosler
Nosler has a reputation for top-­quality bullets, brass and complete cartridges. Great examples are their Trophy Grade and Match Grade lines of ammunition. These lines feature Nosler bullets inside Nosler brass, and each round is visually inspected for uniform consistency.
Match Grade offerings now include the 6.5 Grendel, which joins other loads ranging from .223 to 6.5 Creedmoor to 33 Nosler. Their latest Trophy Grade Long Range additions include the 6.5 Grendel and 6.5 Creedmoor, which are loaded with AccuBond Long Range bullets.
---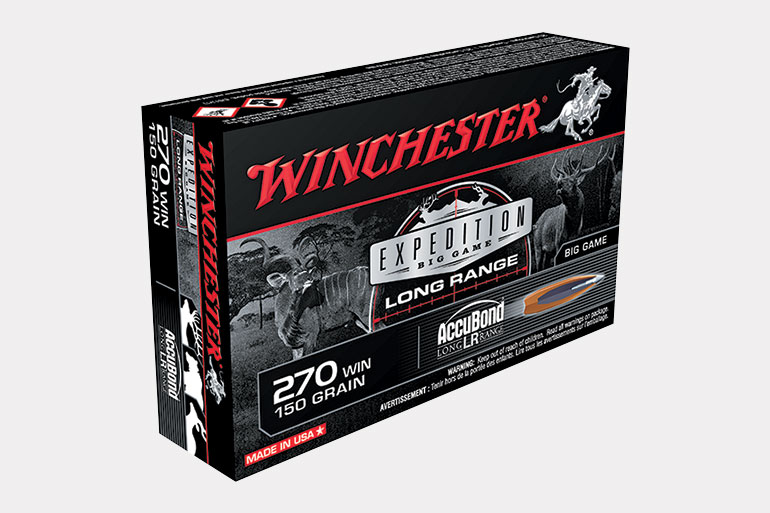 Winchester
When you need a cartridge to take big game at long range, turn to Winchester. Their Expedition Big Game Long Range line of ammo is designed for taking every kind of big game with one shot. From the classic .270 Win. to the heavy-­hitting .338 Win. Mag., the Expedition Big Game line has 10 options to choose from.
These bullets use a bonded lead-­alloy core with a polymer tip to retain weight and resist bullet deformation during flight, yet still expand upon impact.
---
Black Hills
The Black Hills Gold line of long-­range ammunition is well-­known for its quality and reliability. There are 11 different calibers with multiple options for each. For both hunters and competitors, their 6.5 Creedmoor offering should be highly considered. With a 143-­grain Hornady ELD-­X for hunters and a 147-­grain Hornady ELD-­M for competitors, these Creedmoors are a must-­have. Other offerings include the 7mm Rem. Mag., .338 Lapua, .270 Win., .243 Win. and many more.
---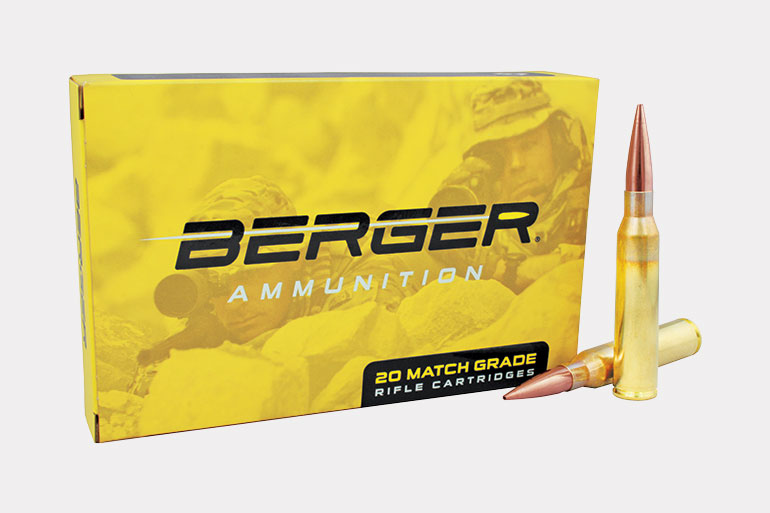 Berger Bullets
For peak performance from long-­range ammunition, Berger delivers. With long-­range offerings in Hunting, Tactical and Target lines, hunters, law enforcement and long-­range competitors have a reliable source of high-­quality long-­range ammo.
Built of the highest quality components, Berger Ammunition provides handload-level performance in every box. From 6.5 Creedmoor to .338 Lapua, which is capable to 2,500 yards, Berger has a premium load for you.
---
Browning Ammunition
Browning's 2019 line of long-­range ammo pushes the limits with five offerings loaded with Sierra Tipped MatchKing (TMK) boat-­tail bullets. These high-­BC bullets boast higher velocity retention and flatter trajectory at long distances.
Offered in 6.5 Creedmoor, .308 Win., .30-­'06 Springfield, .300 Win. Mag. and .300 WSM, they make up Browning's new Long Range Pro line to meet the needs of long-­range enthusiasts.