Description
PRODUCT DESCRIPTION
The 50 Beowulf is a cartridge designed for use in an AR-15 platform. It was created by Alexander Arms in 2001 as a big-bore alternative to the standard .223/5.56 cartridge. The 50 Beowulf cartridge is designed to shoot a .50 caliber bullet and provides a substantial increase in stopping power compared to traditional AR-15 cartridges.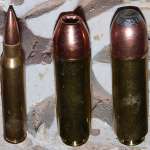 How Does the 50 Beowulf Work?
The 50 Beowulf cartridge uses a straight-walled case that is much larger in diameter than the standard .223/5.56 cartridge. The cartridge is loaded with a large .50 caliber bullet and propelled by a significant amount of gunpowder. The result is a cartridge that produces massive stopping power, making it an ideal choice for hunting and other heavy-duty applications.
Why is the 50 Beowulf Popular?
One of the main reasons for the popularity of the 50 Beowulf is its immense stopping power. The cartridge is capable of taking down big game with ease, making it a popular choice among hunters. Additionally, the 50 Beowulf cartridge is reliable and accurate, providing consistent performance in a variety of shooting conditions.
Where Can You Buy 50 Beowulf Ammo?
50 Beowulf ammunition can be purchased online or at most gun stores that specialize in big-bore cartridges. However, it's essential to check your local laws and regulations before making a purchase, as the sale of certain types of ammunition may be restricted in your area. It's also important to buy from reputable retailers to ensure the quality and safety of the ammunition.
Conclusion
In conclusion, the 50 Beowulf is a powerful cartridge that provides immense stopping power, making it a popular choice among hunters and gun enthusiasts. Its reliability and accuracy make it an ideal choice for heavy-duty applications, and it is readily available from most gun stores and online retailers. Whether you're a seasoned hunter or a gun enthusiast looking for a new challenge, the 50 Beowulf is a cartridge worth considering.MORE INFORMATION 50 Beowulf ammo 500 rounds
As with all of Underwood Ammo™ rounds, we utilize flash suppressed powder so that your vision will not be compromised if it becomes necessary to use your firearm in low light.
PRODUCT INFORMATION
This ammo is for cartridge size 12.7×42 – Designed for use in .50 BEOWULF® firearms:.
The bullet is made from Copper, Lead.
The diameter (caliber) of this bullet is 0.5.
This bullet weighs 350 grains.
This bullet leaves the barrel at 1775 feet per second.
The ammo case is made from Brass.
This ammo is a proven round for hunting.
The bullet in this product does contain lead.
This round is designed to be supersonic and travels faster than the speed of sound.
The muzzle energy of this ammo is 2449 ft lbs.
This product has been designed to be an effective choice for the ultimate in self-defense applications.
The bullet in this product has a Sectional Density, (SD) of 0.2. SD is the ratio of an object's mass to its cross sectional area with respect to a given axis. It conveys how well an object's mass is distributed (by its shape) to overcome resistance along that axis.
This ammo IS SAFE to use in a suppressor.
The bullet in this ammo has a ballistic coefficient (G1) of 0.145 – Generally, the higher the coefficient, the more stable the projectile will be in flight.
Each box of ammo contains 20 loaded pieces of ammunition.
This ammo is manufactured by Underwood Ammo.