Description
PRODUCT  OVERVIEW ON THE GOEX BLACK POWDER
If you're a black powder enthusiast, you've likely heard of Goex  Black Powder. This type of black powder is a popular choice for both hunters and shooters who want a reliable and consistent powder for their muzzleloading firearms. Here's a closer look at what makes Goex Black Powder a top choice for black powder enthusiasts.
One of the biggest advantages of Goex Black Powder is its consistency. This powder is known for producing consistent velocities and pressures, which can result in more accurate shots. This is especially important for hunters who need to make precise shots to take down game.
Another benefit of Goex  Black Powder is its versatility. This powder can be used in a variety of muzzleloading firearms, including rifles, shotguns, and pistols. This means that black powder enthusiasts can use Goex Black Powder for all of their muzzleloading needs, without having to switch between different types of powder.
In addition to its consistency and versatility, Goex FFg Black Powder is also known for its clean-burning properties. This can be especially important for shooters who want to maintain their firearms and keep them in top condition. With Goex FFg Black Powder, there is less fouling and residue left behind, which can make cleaning your firearm easier and less time-consuming.
It's important to note that black powder does require proper storage and handling to ensure safety. Black powder should be stored in a cool, dry place and should be kept away from heat sources and open flames. Additionally, black powder should always be handled with care and used in accordance with proper safety guidelines.
Overall, Goex FFg Black Powder is a reliable and versatile option for black powder enthusiasts. Its consistency, versatility, and clean-burning properties make it a popular choice, and it's a powder that has earned a reputation for delivering consistent performance in a variety of muzzleloading firearms.
Warnings from the Manufacturer – Goex Black Powder
Do not exceed the loads displayed in the reloaders guide.
Never mix any two powders regardless of type, brand, or source.
Never substitute any smokeless powder for Black Powder or any Black Powder substitute.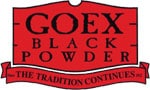 Made In the United States of America